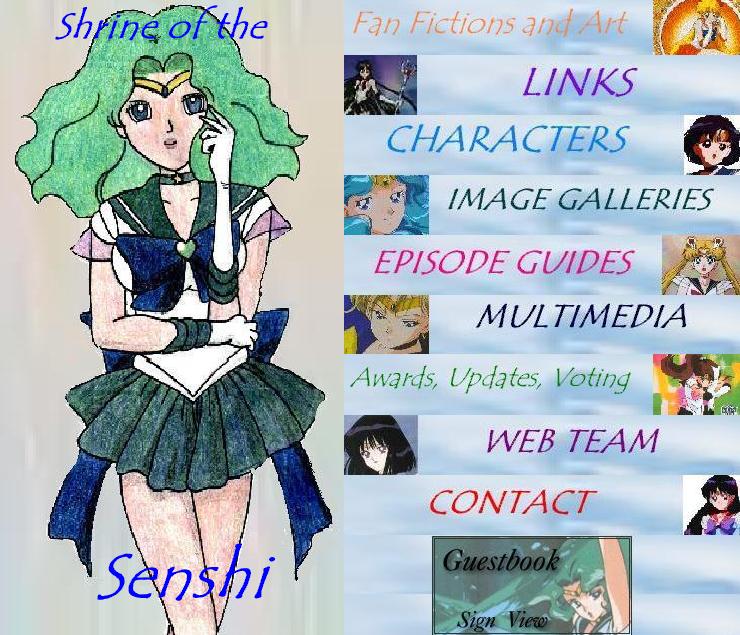 Welcome to Shrine of the Senshi.
This page is totally dedicated to the wonderful world of Sailor Moon.

Join the mailing list (aka discussion list) on yahoo group. To join, send a message to shrine_senshi-subscribe@yahoogroups.com with the subject "subscribe".
This contains some spoilers if you haven't seen the whole series. The sections on the Sailor Stars series are marked. Beware, the episode guides are not marked, but do contain spoilers if you haven't seen the entire series
This site opened January 27, 2001.
Last updated: May 2, 2002.

This page is best viewed in a maximized window at a resolution of at least 800 X 600.
Sailor Moon is copyright © 1992 Naoko Takeuchi/Kodansha, TOEI Animation.
English language dub is copyright ©1995 DIC Entertainment.
This site is not affiliated with any of these companies and has no intentions of infringing on their copyrights.
The original content of these pages is copyright 2001-2004 by the
Web mistress.

This site is a Shrine to all the characters, including secondary characters and villains, from Sailor Moon, a popular anime show. In addition to character profiles, the site offers episode clips, movies, midis, and mp3s. There is an image gallery that includes a section of fan art. There are episode guides and fan fictions.